Start your journey today
Find out why you're hurting and simple steps you can take to feel better.  You deserve to live freely. Check out our blog for simple tips to relieve plantar fasciitis, neck pain, back pain, and more!
Read our blog!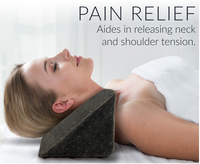 OUR PROMISES
QUALITY
We use premium quality materials for all our products. You can rely on us to provide the reliable products you need.
SAFETY
Our products have been extensively tested for ergonomics, reliability, and effectiveness. You don't have to sacrifice results with your own well being.
SATISFACTION
All our products come with a 60-day return window! If you aren't satisfied with our product, just return it. Our products are designed for YOU.
About Us
Lumia Wellness is a US company based in sunny Southern California. We are dedicated to delivering quality and long lasting products that will help you achieve the health improvement you've been wanting. With an in-house R&D group, we strive to innovate and create for your well-being. We provide an array of head positioners, body positioners and pillows designed to help improve overall posture health.
Explore our catalog!